Veronica

Name

Veronica

Gender

Male (♂)

Species

Goldfish

Occupation

Dog's pet fish

Relatives

(none known)

Friends

Enemies

First Appearance

Voiced By

Veronica is Dog's pet fish in Fishing for Trouble until the end of the episode.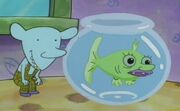 Dog obtained the fish from a carnival game in which he won from Cat's hairball. Dog named the fish Veronica and refers him as a female. When Dog was sleeping, Cat eats Veronica. To prevent Dog from being angry that Veronica was eaten, Cat places a balloon made to resemble Veronica inside the fish bowl. Cat entered Dog's mouth by insisting him to fix his mouth since it "sounds raspy."
After traveling long through Dog's stomach, Cat finds Veronica, revealing that he has gotten overweight, developed limbs, and is able to talk after eating food Dog ate in the fair. He is mad at Cat and swallows him and Dog entirely. He lives in CatDog's house and becomes friends with Winslow.
Even though he is a male, his name is Veronica. This is because Dog thinks that that Veronica is female.