Gopher

Name

Unknown

Gender

Male (♂)

Species

Gopher

Occupation

None

Relatives

(None known)

Friends

Worms

Enemies

First Appearance

Last Appearance

Voiced By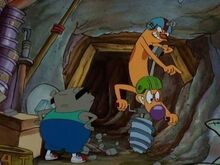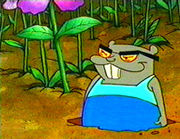 Gopher is a character and antagonist of three episodes.
Gopher lives underground near CatDog's House. He claims anything underground as his property. He enjoys ruining CatDog's garden.
"Two heads, no brain. Nit and wit." - Gopher in his hole after telling CatDog they have been mining rock candy.
"Nothing like a nice piece of rock candy after a day's work" - Gopher after he eats 'Joey'
He is also the antagonist in the CatDog flash game "Go for Gopher".